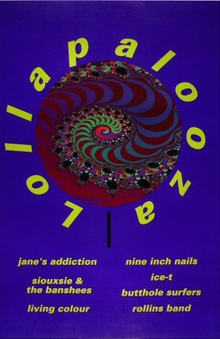 The year was 1991. It was the summer between my sophomore and junior years of college, and my group of friends from my dorm at Ohio University made plans to go to this new music festival, Lollapalooza. We headed to Blossom Music Center in Cuyahoga Falls, Ohio for a day-long adventure. I was most interested in seeing Jane's Addiction, Siouxsie and the Banshees, Living Colour, and the Violent Femmes. But that summer I was introduced to the Rollins Band, and their founder and frontman, Henry Rollins.
While I was admittedly not sure of the band's music when I first heard it, what did draw me in was the intensity of Rollins, and the sea of fans singing and moving in harmony with the sounds, lyrics and feelings of the band. It was a moment that proved to me that art and storytelling come in many forms.
Fast forward 20+ years, and our family is in the throes of college applications with our youngest child. Like many teens, she's trying to figure out what she wants to do, what she wants to be when she grows up, and so much more. Over the past 12 months she's realized that she is a talented writer, has a great photographic eye, and tells stories that instantly draw you in. So when Henry Rollins brought his Travel Slideshow to Cleveland recently, I knew she would find it inspiring. I snatched up tickets for the two of us and I made sure my colleague, JK Kalinowski knew about it, so he could bring his daughter, also an amazing artist.
After the show, we met up in the lobby, and shared how we were both in awe by the experiences and the stories Rollins shared with the full house at Cleveland's Playhouse Square. JK and I both said, "How amazing would it be to have him tell his stories at one of our events?" What stood out to us was not his amazing photography nor the amazing travels he's made (though both were great), but rather the amazing and vivid stories he shared and the takeaways he left with the audience. I'm certain that many of us in the audience all priced out some international excursions after we returned home that night.
Lucky for us, Henry Rollins will be our closing keynote at ContentTECH Summit 2019, taking place April 8-10, 2019 in San Diego, CA.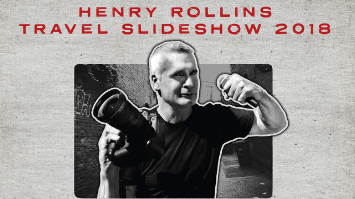 What can the frontman for a hardcore punk band teach our audience of content marketing practitioners, enterprise marketers and demand generation and marketing technology professionals?
To start, aside from being a musician, Rollins is also an actor, writer, publisher, television and radio host, comedian, activist, photographer, storyteller, podcaster, motivational speaker and so much more.
He has told stories through his music and through the spoken word. He's shared his stories, documented them in film, blogged and podcasted about the tour and so on. Early in his career, he built an audience through his music, which has carried through to his current ventures.

"Rollins is many things," says the Washington Post, "diatribist, confessor, provocateur, humorist, even motivational speaker…his is an enthusiastic and engaging chatter." Entertainment Weekly's list includes "Punk Rock icon. Spoken word poet. Actor. Author. DJ. Is there anything this guy can't do?" TV Guide has more concisely called him a "Renaissance Man" but if Henry Rollins could be reduced to a single word, that word would undoubtedly be "workaholic." When he's not traveling, Rollins prefers a to keep a relentless schedule full of work, with gigs as an actor, author, DJ, voice-over artist and TV show host to name a few of the roles that keep his schedule full.
Henry currently hosts a weekly radio show on L.A.'s renowned NPR affiliate KCRW, in addition to writing weekly columns for the LA Weekly and Rolling Stone Australia. In 2013, after previously anchoring shows for IFC and National Geographic, Henry joined the History Channel's H2 network as host of the TV show 10 Things You Don't Know About. In 2014, Henry received the prestigious Ray Bradbury Creativity Award in recognition for his lifelong contribution to the arts, his passion for social activism, as well as his intense passion for the importance of maintaining books and libraries.
We look forward to hearing stories from Henry Rollins at ContentTECH Summit 2019, April 8-10 in San Diego, CA. Registration is now open. We hope you can join us!
Published November 29, 2018 to: The ContentTECH Blog by Cathy McPhillips
---